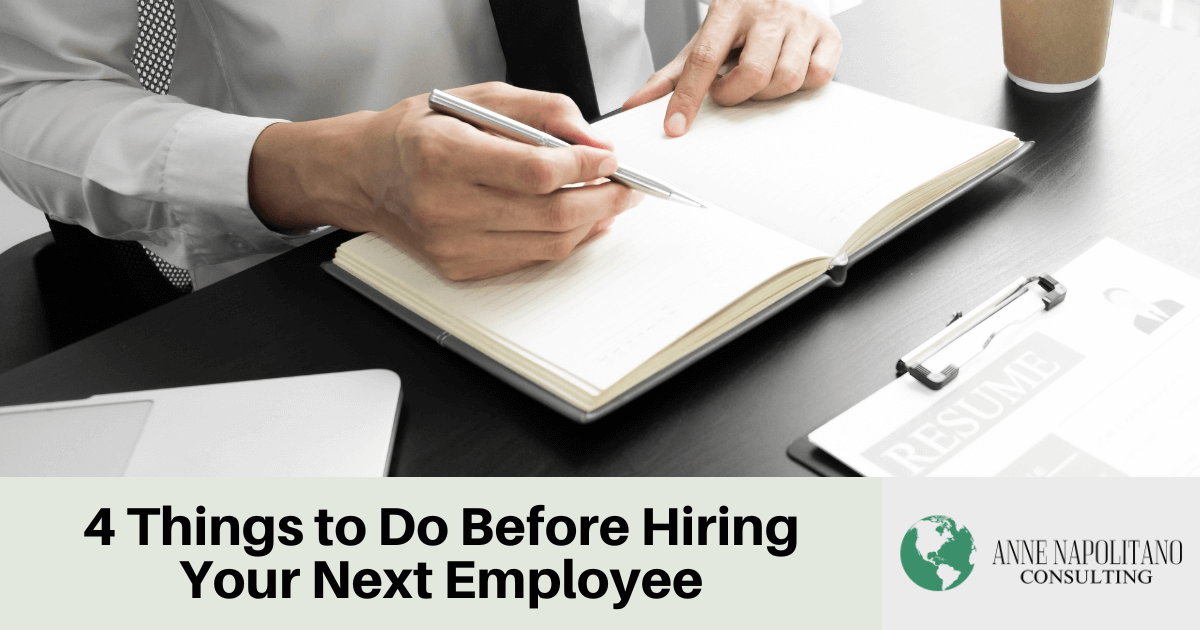 Whether you are hiring your first employee or your 15th, it's important to ensure that you are prepared before setting out to add your next team member. As a small business owner, you might not know where to begin with the hiring process, especially if you haven't had experience in HR. 
If you're in the process of deciding whether or not your business is ready to hire, be sure to check out this blog post to learn the signs that it's time to hire for your business. 
Once you've established that it's time to hire for your business, it's time to start the hiring process. The first step is to prepare. So before hiring your next employee, be sure to check the items below off of your list. 
1. Prepare Your Business
If this is your first hire, there are a few things you need to make sure you have in place before bringing on your first employee. 
Make sure you have your EIN
The IRS requires that every business have an EIN, or Employer Identification Number. It's a unique nine-digit number specific to your business used for tax purposes. If your business is set up as a corporation or partnership, you likely already have your EIN. If not, you can obtain an EIN by applying online. 
In addition to obtaining your federal EIN, check to ensure you have properly registered with your state. Each state has a different process for getting a state employer identification number. Head to your state's labor department website to learn more. 
Set up records for withholding taxes
When hiring your first employee, make sure you take taxes into consideration. Before you start your search, you will need have a system for completing and filing tax paperwork in place. Keep in mind, you should hold on to your employment tax records for at least six years. 
There are three different types of withholding taxes that you will be responsible for. 
Federal income withholding tax – Your employee will fill out Form W-4 (Employee's Withholding Certificate). This form asks them how much federal income tax they want withheld from their pay. The employer is then responsible for filing this form with the IRS.

 

Federal Wage and Tax Statement – Each year, you are responsible for completing a W-2 for each of your employees. These forms detail their earnings and taxes withheld throughout the year. You must send a copy of the W-2 to each employee by January 31 for the previous year. Then you will send Copy A of the W-2 forms to the Social Security Administration by the last day of February. (If you decide to work with an independent contractor rather than hire an employee, you will complete a

1099-NEC

instead of a W-2.)
State Taxes – When it comes to income taxes, each state is different. Check your state government's website to ensure you have correct information and required forms.

 
Get your paperwork in order

 
With each new hire, you will need to provide and collect the necessary paperwork. It's important that you are prepared beforehand and have all of the necessary paperwork in place and ready to go for your new hire. 
Rather than shuffling around physical copies of each document, you can use an HRIS (human resources information system) like Gusto, ADP or Paycom. These systems provide all of the paperwork to your new employee in a digital, easy-to-use format, which will help streamline this process. 
New hire paperwork can include: 
W-4

I-9

Direct deposit form

Non-compete agreement

Nondisclosure agreement

Employee handbook

Consent to drug test

Acknowledgment form
2. Determine Your Needs
Before you can post a job listing and hire an employee, you need to know what you're looking for. Start by determining your needs so that you can find the best fit for this role. 
What do you need done?
First, determine the specific need you will be filling. Make a list of the tasks that you need done and prioritize those tasks. Which of those cannot be filled by your current team members? Which area of your business do you need the most help in? Is there enough work to require hiring someone full-time? Or will a part-time employee or contractor be sufficient? Based on your answers to these questions, you can move forward with finding the right person to fulfill these needs. 
Employee or independent contractor?

 
Now that you've determined what you need done, you need to consider whether an employee or an independent contractor will be best to fill the role. While there are a number of factors to consider, employees are typically hired for the long-term, and contractors are typically hired for short-term, specific projects. Knowing exactly what you need will help you determine which route is best for you and your business. 
Either way, there are benefits to hiring either an employee or contractor. You can read more about these different types of workers here.
3. Define the Role
Clarify the specifics
In order to hire the right person, it's important that you clearly and specifically define what you are looking for within this role. 
Make sure to clearly define: 
Job requirements

Responsibilities

Expectations

Compensation

Job title

Remote or on-site
It's critical that you clearly define your expectations for this role so that you and your potential employee are on the same page from the beginning. 
Write the job description
Now that the role is defined, it's time to write out the job description. Make sure that you are clear on the expectations for this position so that only those who are truly interested in the job will apply. Include details about the job requirements, responsibilities, and expectations, as well as information about your company's culture and core values. Starting with a clear and specific job description will give you a jump start on filtering out candidates who need not apply. 
Determine how you will filter candidates
Depending on where you post your job listing, you will likely have applications flooding in. It's simply not possible to interview every candidate for this position (plus you wouldn't want to). Before you post the job listing, have a system in place for how you will filter the candidates. 
Start by considering the non-negotiable requirements you have for this position. Does the candidate need to have a certain certification or degree in order to be considered? Do they need specific experience? If someone does not meet these requirements, you are able to quickly filter them out. Then, you can further filter through candidates by defining "preferred but not necessary" qualifications. However you decide to filter out candidates, it's critical that you have a clearly defined system to make the process as efficient as possible. 
4. Start the Hiring Process
Now that you've clearly defined who you are looking for, it's time to start looking for the right candidate! 
Utilize your network
The first place you can begin to look for your next hire is within your own network. You may know someone personally who would be a great fit for the job. Or you may have a second-degree connection to someone who would be the right candidate for the job. Tap in to your personal and professional networks to ask about potential candidates. You can ask your employees to utilize their networks as well. 
Post the job opening
Now it's time to actually post your job opening. There are a few different options for how to go about this. You can start by posting the opening directly on your website in order to reach a targeted audience. To widen your reach, you can also post your job opening on websites like Indeed, ZipRecruiter, Monster, CareerBuilder, and LinkedIn. Keep in mind that you will likely receive numerous applicants from each platform you post the job on. So in order to keep yourself from being overwhelmed by applications, try starting with just one or two platforms. 
Now that all the prep work is done, you're ready to interview, select, and bring on your new hire!
We're Here to Help
If your business is expanding and getting ready to hire, our Client Advisory Services may be the right next step for you. With our Client Advisory Services, we can advise you on the financial impacts hiring new employees will have on your business. To learn more about our Client Advisory Services, reach out to schedule your free consultation.