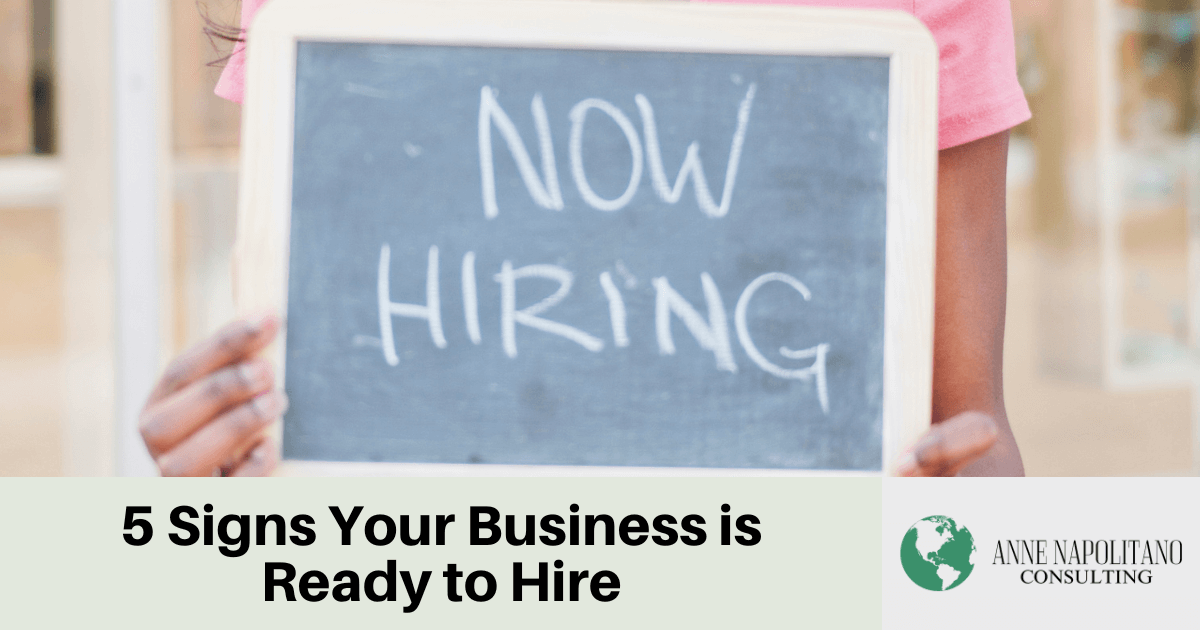 Deciding if your business is ready to hire? Whether it's hiring an additional person for your team or hiring your very first employee, ensuring that you're hiring at the right time can be difficult to determine. Hire too early, and you may not have the cash flow you expected. This puts both you and your new employee in a tough position. But waiting too long to hire can mean the work starts to outgrow your capacity, causing it to pile up. 
If you're trying to determine whether your business is ready to hire, here are 5 telltale signs that it's time.
1. Your Current Employees Are Overwhelmed
Possibly the most obvious sign that your business is ready to hire is that your current employees are overwhelmed. Having employees who are stretched too thin leads to a number of problems, including diminished customer service. This includes emails and calls going unanswered. And even worse, customers repeatedly asking about missed deadlines or incomplete tasks. Often times when you have overwhelmed employees, the work that is complete ends up being subpar simply because they have too much on their plates. 
Having poor customer service like this can damage your company's reputation and even cause current customers to take their business elsewhere. Losing customers and having a poor reputation can make gaining new customers ever more difficult. Already, the cost of gaining new customers is 5 to 25 times higher than retaining current ones. Customer retention is critical to the success of your business. 
Overwhelming and overworking your employees can also lead to employee burnout. This could cause your employees to quit, which makes your current problem even worse. By adding necessary members to your team, you are not only saving your employees but the reputation you've worked so hard to build.
2. You Have to Say "No" to New Business
Another obvious sign your business is ready to hire is having to turn down new business. This could be because your services are in high demand or that you're simply overbooked and can't take on anything new. Either way, it's a sign that you're ready to hire someone so that you have the capacity for new business. 
Depending on the nature of your work, this could mean hiring a full-time employee, part-time employees, or temporary seasonal workers. Make sure to look at the costs associated with each and your business' specific needs in order to determine the best option for you. 
3. High-Level Employees Are Doing Junior-Level Tasks
A clear sign you're ready to hire is when your high-paid and highly skilled employees are doing junior-level tasks tasks. If your high-value employees, or even you, are spending significant time on administrative tasks that should be passed to someone else, it's probably time to hire someone else to do those tasks. 
One way to determine if you're ready to hire for this role is to put a dollar-value on your employees' and your time. If you or your high-value employee is doing tasks that would cost less per hour for someone else to do, seriously consider hiring someone else to do them. By spending time on tasks that someone else could do, you're taking away time that could be spent on high-level tasks that will help your business grow. 
4. It's Time to Bring Outsourced Tasks In-House
When you first start your business, it often makes sense to outsource tasks that you can't afford to handle in-house. But as your company grows, it can make more sense to bring those tasks in-house. As your business grows and expands, the tasks you've outsourced may become more complex and end up costing more for outsourcing than if you had an in-house team dedicated to doing those tasks for your business. As a growing business's specific processes and needs become more critical, it often makes more sense for a person or team dedicated just to your business to handle these than outsourcing. 
5. You're Ready to Take on a More Strategic Role
As an entrepreneur, you probably didn't start your business to get stuck in the day-to-day tasks of operating your business. You're tired of spending all your time answering phones, taking care of the books, and processing orders. You desire to free up your time to take on a more strategic role in your business. 
It's time to no longer be stuck in the weeds. Whether it's your first employee or adding another member to your team, hiring someone to take on those day-to-day tasks you've been handling is the way to go. This will give you the capacity to spend your time on the big picture tasks that will help you grow your business. 
We can help!

 
If your business is expanding and getting ready to hire, our Client Advisory Services may be the right next step for you. With our Client Advisory Services, we can advise you on the financial impacts paying new employees will have on your business. To learn more about our Client Advisory Services, reach out to schedule your free consultation.