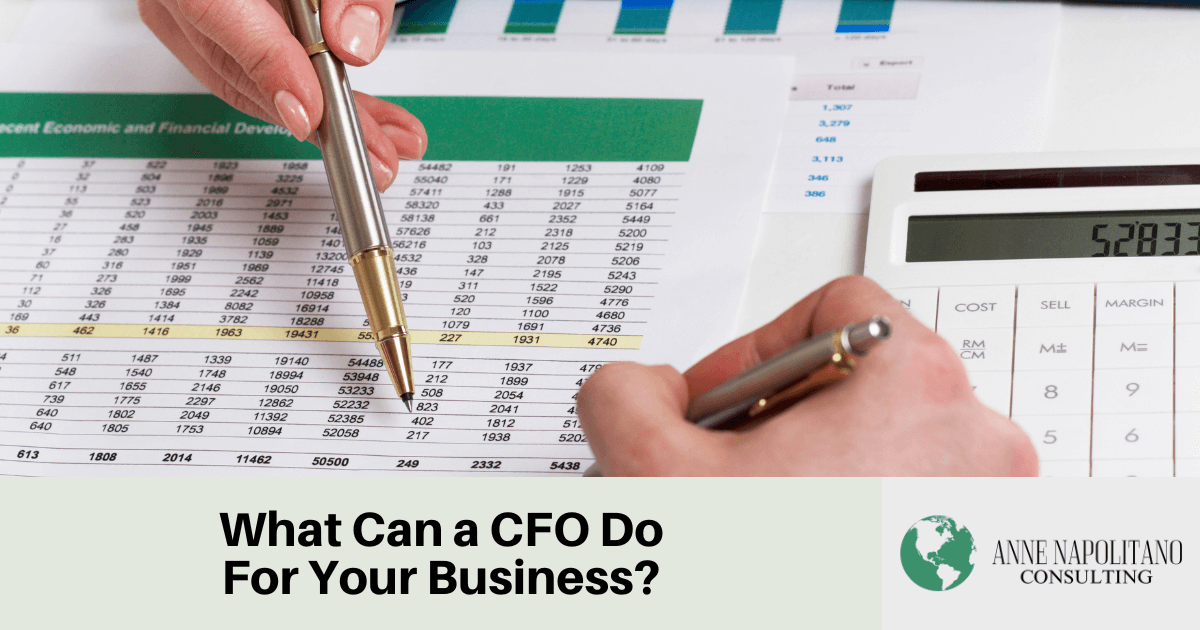 Having a Chief Financial Officer, or CFO, on your team is an invaluable resource. A CFO plays a vastly different role than bookkeepers or accountants. Many business owners may find themselves asking the question, "What does a CFO actually do for your business?" This article aims to answer that question by explaining why CFOs are beneficial, the benefits of an outsourced CFO, and 7 things a CFO can do for your business. 
CFOs: Helpful at Any Level of Business
When you think of a CFO, you may have the picture of a full-time C-suite executive in their corner office of a high-level corporation. You may think that having a CFO is reserved for the "big companies," and your business isn't at that level yet. However, this isn't necessarily the case. In fact, any business can benefit from having a CFO, from the eager startup to the corporate giant. 
No matter what stage your business is currently in, you can benefit from the expert knowledge that a CFO has to offer. By hiring a CFO, you can focus on marketing your business, introducing new products and services, and serving your customers while your CFO solely focuses on the financial health and growth of your business. The bottom line is that the ROI (return on investment) of hiring a CFO is worth it. 
Outsourced CFOs: The Best of Both Worlds
If your business is ready to add a CFO to your team, but you can't afford to pay someone a full-time C-suite salary, hiring an outsourced CFO is the answer you've been looking for. By hiring an outsourced CFO, you gain the expertise and benefits of a CFO without having to pay all of the expenses that come with hiring someone full-time. An outsourced CFO is also an excellent option because they will be an objective third party, not allowing emotional ties to your business get in the way of objective decision making. 
What a CFO Can Do For Your Business
The duties of a CFO go well beyond those of a bookkeeper or accountant. CFOs are highly experienced financial professionals who are responsible for the overall financial management of your business and will focus on your financial strategy. They have the knowledge and expertise to successfully guide your business in the right financial direction. 
While this is not an exhaustive list of all that a CFO can offer, here are 7 key things a CFO can do for your business. 
1. Budgeting

 
Creating and maintaining an effective budget is critical for the financial health of your business. A CFO will examine your financial situation, create your budget, and ensure you stick to it. Your CFO will manage your revenue and expenses at every level to ensure that you are working within the parameters of your budget. 
2. Financial Forecasting
One of the primary responsibilities of your CFO is financial analysis and strategy. (More on strategy in the next point.) Within this falls financial forecasting. According to Investopedia, "Forecasting is a technique that uses historical data as inputs to make informed estimates that are predictive in determining the direction of future trends." Through forecasting, your CFO can make plans and set strategies for the future of your business. 
3. Set Financial Strategy and Determine KPIs
Your CFO will work with you to nail down the financial goals for your business. Once your goals are set, your CFO will utilize their expert financial and business knowledge to create strategies to set you on track to reach those goals. They will also determine the KPIs (key performance indicators) that are necessary to track your progress toward those goals. 
4. Track KPIs and Advise Necessary Changes
Once your CFO determines the KPIs to measure your progress toward reaching your goals, they will continue to monitor those KPIs and track your progress. Based on these KPIs, your CFO can advise you on any necessary changes that need to be made in order to set your business on the right trajectory toward success. 
5. Build or Enhance Financial Processes
Every business needs sound financial processes in order to run effectively and efficiently. Your CFO can examine your current financial processes and advise you on the necessary changes to enhance them. If your business does not currently have specified processes in place, your CFO can build these processes for you. 
6. Handle Financial Reporting
Reporting to your board and stakeholders falls under the responsibilities of your CFO. In fact, your CFO can develop all of the necessary materials for reporting your finances and lead the financial portions of your board meetings. 
7. Manage Finance and Accounting Departments
Your CFO can manage both your financial and accounting departments to ensure that all proper procedures are and policies are in place and followed. If utilizing an outsourced CFO, many will appoint a bookkeeper and accountant from their team to handle those day-to-day operations in order to assure consistency across the board. 
We're here to help!
Let Anne Napolitano Consulting be your outsourced CFO solution. We are highly experienced financial professionals who have the knowledge and expertise to successfully guide your business in the right financial direction. Working with us as your outsourced CFO is an excellent option for your business to gain the expertise and benefits of a CFO without having to hire a CFO full-time.
If you're looking to bring your business to the next level financially, let's talk. We partner with you as seasoned professionals who you can trust, not merely someone to fill a role. To learn more about what it would look like to have an outsourced CFO on your team, schedule your free consultation. We want to be partners in your success.