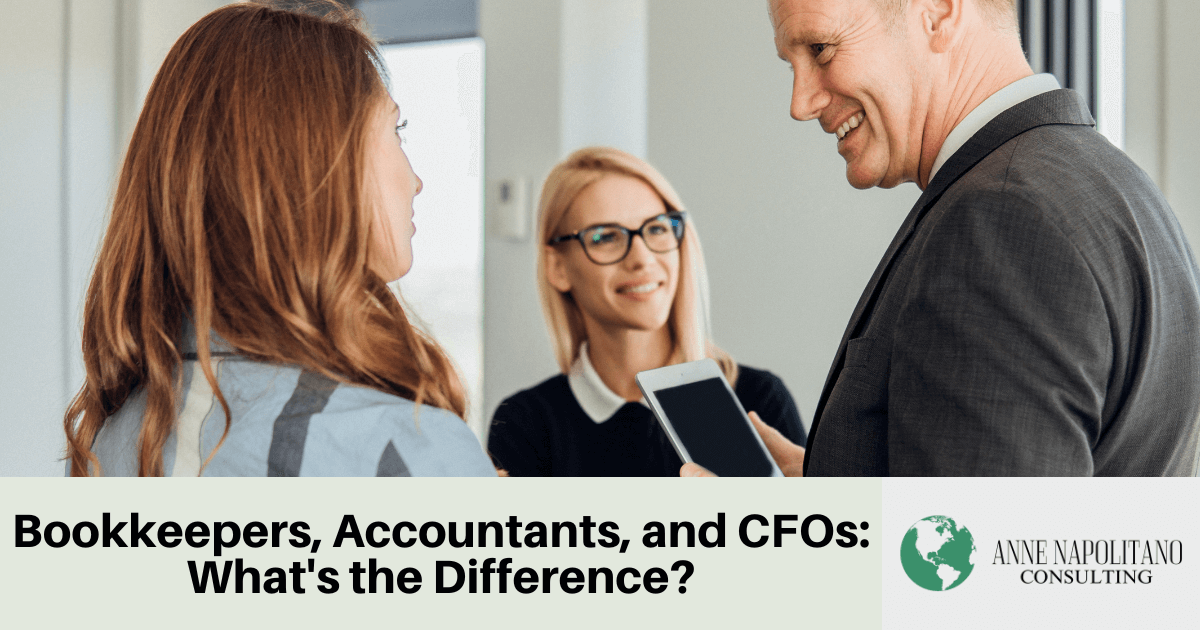 Bookkeeper, accountant, or CFO. Which does your business really need? 
As a business owner, it's important that you have solid financial professionals on your team. But before hiring, it's critical to understand the role each of these professionals play and how they differ. 
In this article, we break down the key roles and responsibilities for each of these financial professionals. 
Before diving into the details, here's a rundown of each:

 
Bookkeepers: process and record financial transactions in a business's accounting software
Accountant: accounting professional who focuses specifically on accounting and taxes
CFO: highly experienced financial professional who provides financial management advice and creates the financial strategy for your business
Bookkeepers
Bookkeepers are typically the first to touch the financial data for a business. They record each of the financial transactions a business makes in their accounting software. Generally, this is the first financial professional a business owner will hire to assist with their finances.
Key responsibilities of a bookkeeper include: 
Sending invoices

Paying bills

Reconciling bank statements

Entering data

Recording sales, expenses, accounts receivable, and accounts payable

Processing payroll

Pulling basic monthly reports such as profit and loss statement, balance sheet, and statement of cash flows
While no special degree or training is required to be a bookkeeper, hiring someone with prior experience is beneficial. Because the bookkeeper is the original source of data entry, having high accuracy and efficiency is important in this role. 
Accountants (CPAs)
While an accountant can perform many of the duties of a bookkeeper, accountants typically have additional qualifications above a bookkeeper, such as a four-year degree or a CPA (Certified Public Accountant) license. Depending on the size of your business, an accountant will often times oversee the bookkeeper and perform additional, more specialized duties.
Key responsibilities of an accountant include: 
Month-end accounting

Process optimization

Tax preparation and filing

Tax advisory

Conversion to accrual

Expense classifications

Historical cleanup

Keeping and auditing financial records
The above duties fall under the general role of an accountant; however, it is important to understand the distinction of a CPA. Becoming a CPA requires that someone complete a program of study and pass a comprehensive licensing exam. Therefore, all CPAs are accountants, but not all accountants are CPAs. 
CFOs
The CFO, or Chief Financial Officer, is responsible for the overall financial management of your business and will focus on your financial strategy. CFOs are highly experienced financial professionals who have the knowledge and expertise to successfully guide your business in the right financial direction. 
Key responsibilities of a CFO include: 
Managing financial operations and overseeing the bookkeeper and accountant

Setting the business's financial strategy and determining KPIs

Preparing annual budgets and financial forecasts

Tracking KPIs and advising on necessary changes

Recommending ways to limit expenses and improve efficiency

Strategic planning

Building or enhancing financial processes
A CFO will look beyond the financial accounting and focus on the managerial accounting in order to help direct your business in a profitable way. 
Does your business really need a CFO?
In short, the answer is yes. Almost every business will benefit from having a CFO on their team. While some businesses will have their accountant perform some duties of a CFO, it's simply not the same as having someone specialized in that role. CFOs come with more experience and specialized expertise to help the financial success of your business. 
Hiring a full-time CFO can be expensive and you may not need a full-time CFO on your team. That's where outsourcing comes in. Working with an outsourced CFO (sometimes called fractional CFO) is an excellent option for businesses to gain the expertise and benefits of a CFO without having to pay all of the expenses that come with hiring someone full-time. At Anne Napolitano Consulting, we offer outsourced CFO services to help guide your business to achieving your goals. 
Partners in Your Success
Bookkeepers, accountants, and CFOs all play an important role in your business. Each of their roles are intertwined and none should work totally independently. That's why the Anne Napolitano Consulting team consists of professionals at each level so we can best serve your business. 
Our team offers outsourced bookkeeping, accounting, and CFO services. To learn more about how we can serve your business, reach out to schedule your free consultation. We want to be partners in your success.