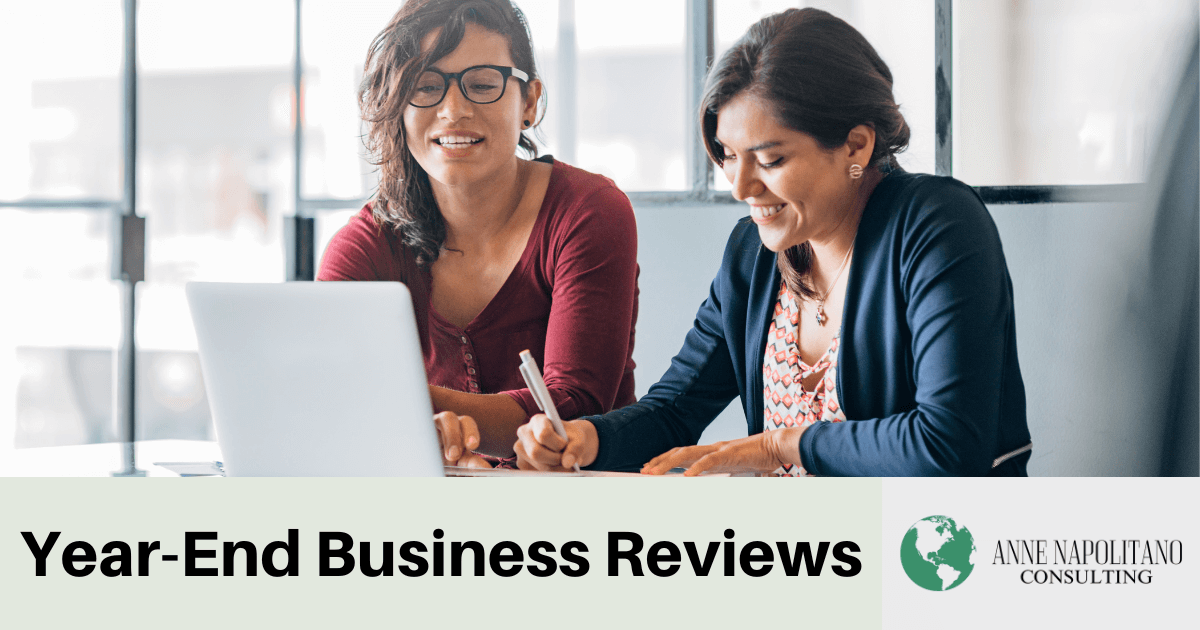 It's a wise practice to implement a year-end business review as a part of your end of year routine. While it's exciting to look forward and plan for the year ahead, how will you know how to effectively create a plan if you fail to first look back at this year? Without conducting a year-end business review, you will likely start your next year with the same flawed systems, processes, and strategies that impacted your business this year. 
While each business is unique, there are some key elements that should be included when conducting a year-end review. 
Why You Need a Year-End Business Review
Year-end business reviews are a necessary process to incorporate into your end of year routine. By taking intentional time to evaluate your business's performance over the past year, you are able to better prepare for the next. During your year-end business review, you are able to evaluate the effectiveness of your strategies, funnels, marketing campaigns, product and service offerings, and more. Through these evaluations, you are able to get a clear picture of what worked well and what didn't. 
Through your year-end review, you are also able to catch any accounting or bookkeeping mistakes that would have otherwise gone unnoticed. The last thing you want during tax time is to uncover an error that significantly impacts your numbers. So it's best to take the time to clean up your books in order to avoid any unpleasant surprises down the road. 
All in all, intentionally conducting a year-end business review allows you to be proactive about next year. You are able to make the necessary changes to your strategies and methods in order to avoid repeating the same mistakes. 
Conducting Your Year-End Business Review
1. Schedule Intentional Time
An effective year-end business review cannot be completed in one afternoon and require your intentional, undivided attention. In order to ensure that you're dedicating the proper time and attention to conducting your review, schedule time slots each day over the course of a week. Depending on the size of your business and the depth of your review, you may require more or less time. Just make sure you don't short-change yourself. This deep dive into your business will not only benefit you, but will benefit your customers, stakeholders, and employees in the long run. So be sure to give it the attention it deserves. 
2. Set Your Intentions
Before starting your year-end review, it's important to clearly determine your expectations and create a plan. What are you looking to get out of this? What do you plan to review each day of the process? The words of Benjamin Franklin ring true, "If you fail to plan, you are planning to fail." 
Going into your review with a positive mindset makes a big difference. Remember, no matter what you find as a result of your review, ultimately you are able to use the information to improve your business. 
You also need to go into your review with the intention of being objective and not letting your emotions get in the way. When you're examining the success of your own business, it can be difficult to set aside your personal feelings and simply look at the data. However, this is critical in order to conduct a successful year-end review. In order to achieve a truly objective perspective, outsourcing portions of your review is beneficial. We offer year-end financial reviews to clean up your books, prepare your business for year end, and make recommendations for your business.
3. Examine Your Goals and Evaluate Your Strategies
In order to determine the effectiveness of the strategies you implemented throughout the year, you need to examine your success at achieving your goals. Take the goals you set at the beginning of the year and determine whether you achieved them based on your KPIs (key performance indicators). 
After taking a close look at your goals, now is the time to evaluate your strategies. Based on the data, ask yourself what's working and what's not. For the goals you reached, what led to that result? For those you didn't reach, what needs to be changed in order to achieve that goal next year? For example, have you been investing in a marketing channel that isn't generating any revenue? Was your sales funnel effective? Is there an issue within your internal workflow? You are able to take your answers to these questions and make the necessary changes to your strategies for the next year. 
4. Assess Your Cash Flow, Expenses, and Budgets
Cash flow is the life blood of your business, so it's important that you take some intentional time to examine these financial components during your year-end business review. 
Look at the data and ask yourself questions like: 
Did you stay within the parameters of your budget?

 

Is there enough money coming in to the business?

 

What can you do to improve your cash flow?

 

Are there any areas that you need to cut expenses?

 

Is it time to raise your prices?

 
If you see that your business struggled financially throughout the year, consider cutting expenses, revamping your offers, or looking into new methods of marketing for next year.
5. Review and Clean Up Your Books
Nobody wants a surprise when it comes to their business' finances. 
As a part of your year-end review, do a full-scale review of your books and accounting in order to catch any mistakes you've made throughout the year so that you have accurate numbers when it comes time to do your taxes and plan for the next year. 
Oftentimes, it helps to have a fresh set of eyes on your books in order to see any mistakes that you overlooked throughout the year. Outsourcing this portion of your year-end review is an excellent option to ensure that your financial statements are accurate. Our financial experts are ready to clean up your business's books. To learn more about our year-end book cleanup, schedule your free consultation. 
6. Proactively Plan for Next Year
Now it's time for the fun part. Once you've completed your year-end review, it's time to plan for next year. Based on your findings, you can start creating your strategic plan for next year. Start setting your business goals. Keep moving forward with what's been working. Implement innovative new ways to grow. And improve the methods and strategies that were unsuccessful this year. 
Partners in Your Success
Let us help you finish your year strong and prepare for the next with our year-end financial reviews. As a part of your year-end review, we will: 
Conduct a YTD review of your books

Ensure that your books are up to date and accurate

Help you plan for year end

Make recommendations on what you need to accomplish in Q4
We offer our year-end financial reviews October-December. We encourage you to get started as soon as possible so that you can be prepared and have time to finish your year strong. Reach out to us to schedule your free consultation to get started! Let us be partners in your success.