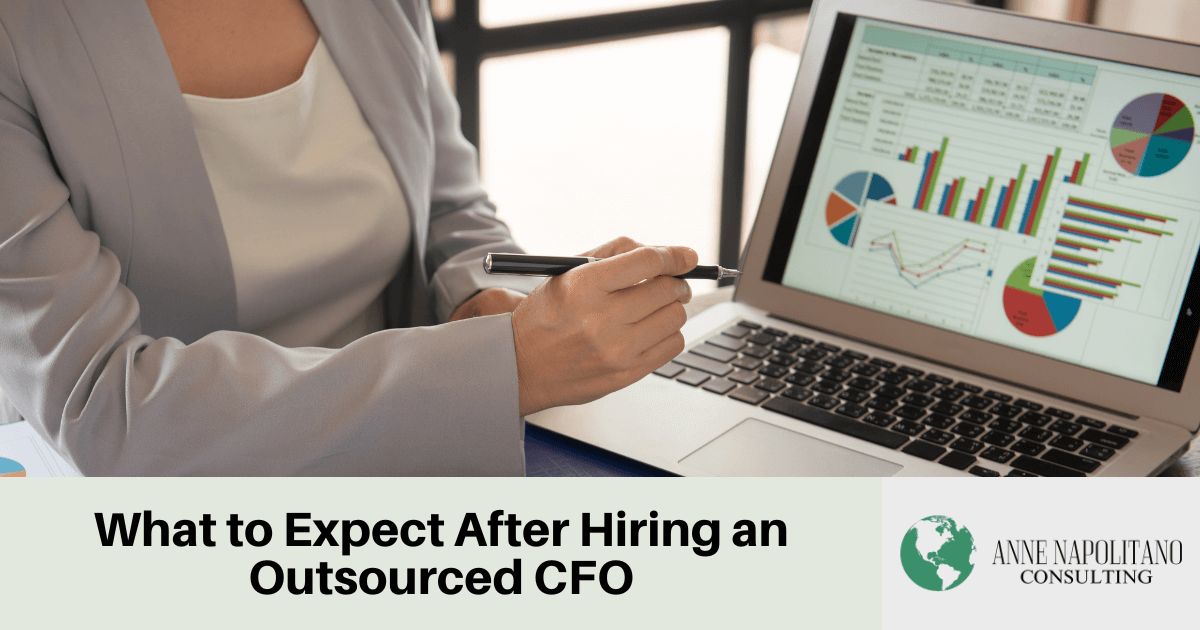 Outsourced CFOs (also called fractional CFOs or external CFOs), are becoming increasingly popular within the business world. Hiring an outsourced CFO for your business has a number of distinct benefits. This article discusses the benefits of an outsourced CFO and what you can expect when working with an outsourced CFO. 
Outsourced CFO vs. Full-Time CFO
A CFO, or Chief Financial Officer, is a highly experienced financial professional who is responsible for the overall financial management of your business, focusing specifically on your financial strategy. When it comes to hiring a CFO for your business, you have two options: a full-time CFO or an outsourced CFO (also called a fractional CFO or external CFO). Not all businesses require a full-time CFO, which is where outsourced CFOs come in. Both serve the same basic function within a business; however, there are some key differences to take note of. 
While a full-time CFO works a 40-hour week, an outsourced CFO works on a part-time or project basis. When working with an outsourced CFO, you can have the expert-level service of a professional CFO without having to pay a full-time salary, C-suite salary with benefits. 
With an outsourced CFO, the services you receive are specifically tailored to fit your business' needs. An outsourced CFO can do all of the same things as a full-time CFO; however, the scope the work provided is unique to your business. This could range from simply advising the CEO on financial matters to taking on a number of CFO responsibilities. And as your business grows, your outsourced CFO's responsibilities can grow as well. 
All in all, hiring an outsourced CFO is ideal for businesses who are growing and are in need of strategic, financial guidance but do not require a CFO 40 hours a week.
What an Outsourced CFO Can Do For You
While this is not an exhaustive list, here are some of the key services an outsourced CFO can provide for your business: 
Budgeting

Financial Forecasting

Set Financial Strategy and Determine KPIs

Track KPIs (Key Performance Indicators) and Advise Necessary Changes

Build or Enhance Financial Processes

Handle Financial Reporting

Manage Finance and Accounting Departments
Learn more about each of these responsibilities in our post, "7 Things a CFO Can Do For Your Business."
What to Expect After Hiring an Outsourced CFO
Every business is unique. Likewise, every outsourced CFO is unique in their specific processes and strategies. While we can't speak for everyone, here's what you can expect when partnering with Anne Napolitano Consulting as your outsourced CFO. 
1. Review Your Books
The first thing we do with every client is review and clean up your books. We'll review your books up to the point you start working with us using a specialized software program. In doing this, we ensure that all of your data is up to date and accurate. Having even what may seem like a small mistake in your books can cause you a huge headache down the road. We want to ensure you're starting off on the right foot with clean and correct books.
2. Set Your Goals
Next is time to set your goals. We will schedule a series of meetings to discuss in detail what you want and what you're looking to achieve. Based on our conversations and your company's data, we'll set your quarterly and annual goals. 
3. Determine Your Strategy
Once your goals are set, you need to know how to reach your goals. We will set up meetings with you break down your long-term goals into milestones, determine your KPIs, and develop a strategy for you to reach those goals. We do this through a variety of methods including forecasting, financial projections, budgets, etc. so that we can ensure these strategies are specifically tailored to your business. Then it's time for you to start implementing your strategies!
4. Evaluate Your Progress
Once you've begun to implement the financial strategies we set, we will schedule meetings to regularly review your progress. We offer both monthly and quarterly reviews, depending on your business's specific needs. In these reviews, we assess your progress toward reaching your goals based on your KPIs and make adjustments as needed. 
Because each business is different and we tailor our CFO services to meet your specific needs, this is not an exhaustive list of how we can serve you as your CFO. However, this is a baseline of what to expect when working with us.
Key Advantages of an Outsourced CFO
1. Cost
As previously mentioned, hiring an outsourced CFO is much more cost effective for businesses. Not all businesses have the need for a CFO to work 40 hours per week and can't afford to pay a full-time CFO salary plus benefits. By hiring an outsourced CFO, you are able to pay only for what you need. 
2. Experience
Although many outsourced CFOs work as independent contractors, they are much more than a freelance finance or accounting professional. They are seasoned, highly experienced financial professionals who have the knowledge and expertise to successfully guide your business in the right financial direction. Because outsourced CFOs have worked with a variety of companies and have navigated a diverse set of financial situations, they bring a unique level of expertise to the table that will inevitably benefit your business. 
Outsourced CFOs offer both a depth and breadth of knowledge and skills that will help them to navigate what lies ahead for your business. 
3. Focus
Adding an outsourced CFO to your team means that they are focused on the specific needs of your business. The stage your business is in – whether you're just starting up, in a season of rapid growth, or anywhere in between – will determine your specific needs. And your outsourced CFO will know exactly what to focus on in order to best serve your business. 
We're Partners in Your Success
If you're looking to bring your business to the next level financially, let's talk. We partner with you as seasoned professionals who you can trust, not merely someone to fill a role. To learn more about what it would look like to have us as your outsourced CFO, schedule your free consultation. We want to be partners in your success.