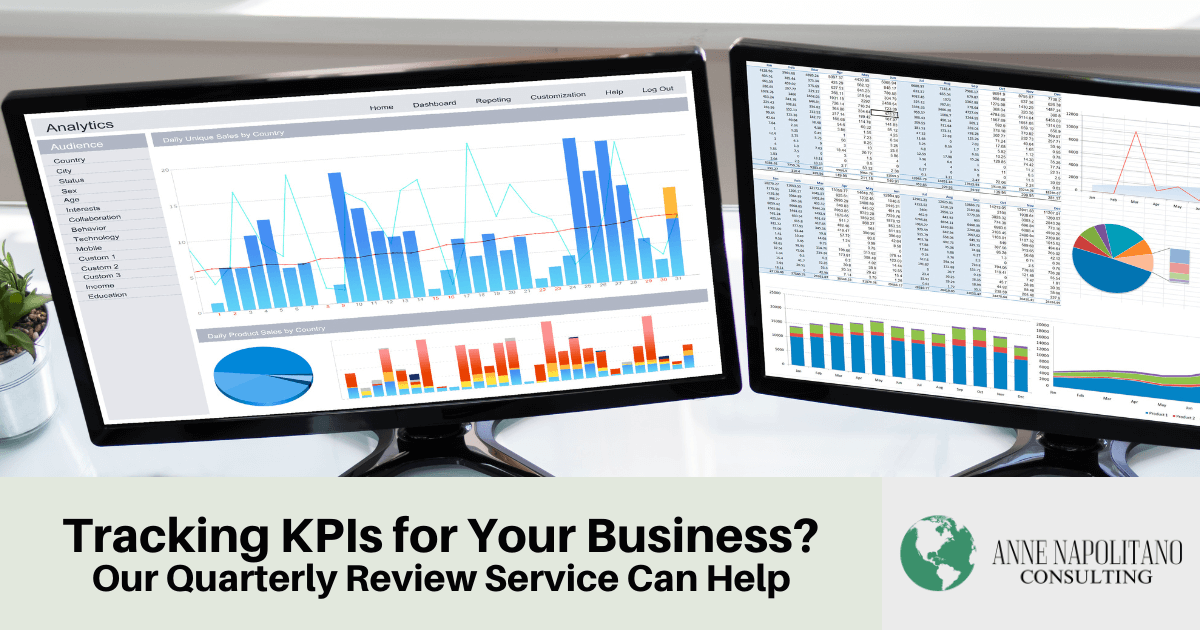 Setting and tracking financial goals is a critical part of running a successful business. And a critical component of tracking those goals is defining and monitoring KPIs, or key performance indicators. 
Because we know the value of regularly reviewing your business's KPIs, we're excited to offer a new service to our active clients as a part of our Client Advisory Services. We are launching a new Quarterly Review to review our clients' data from the last quarter and advise them on how to improve in the next quarter. 
In this article, we'll discuss the importance of KPIs and how our Quarterly Review can benefit your business. 
This service is only available to to our active clients. If you want access to this Quarterly Review and our other Client Advisory Services, let's talk about getting you on our client roster next quarter. 
Tracking KPIs: What are they and why are they important?

 
Before we jump into the details of our Quarterly Reviews, it's important to understand what KPIs are and why they are important to your business. 
Key performance indicators, or KPIs, are quantifiable or measurable values that are tied to a specific goal in your business and reveal how successful you are in reaching that goal.
For example, if your goal is to decrease your customer acquisition costs, think about what might be key in indicating how well you are performing related to that objective.
You might track the organic versus paid traffic to your website, or the cost-per-click performance of your advertisements, or the return on investment for your ad spend. 
One important thing to remember is that KPIs are "key," which means they are critical to the success of a specific goal. While you may be tracking numerous metrics to keep a pulse on your business' overall growth and health, you will only track a few KPIs to measure your progress toward a specific goal. 
Especially when it comes to financial goals, it's likely a given that your primary objective is to earn more money. But that doesn't give you any direction in terms of what to change, implement, or improve in your business. 
Do you need to increase your revenue? Are expenses out of control? Is your profit margin too thin for sustainable growth? 
Identifying and regularly measuring KPIs related to the specific change you want to make in your business helps you more clearly define your goals, take more decisive action, and track the granular progress related to the specific target you're trying to reach. 
That's where our new Quarterly Review service comes in. 
Quarterly Reviews
The purpose of our quarterly reviews is simple: to examine our clients' KPIs over the past quarter and look at the best way for clients to improve in the area of their choice over the next quarter. 
While the purpose may sound simple, the service you receive is game-changing for understanding, analyzing, and improving your financial health. 
Define and Review Your Business's KPIs
In your Quarterly Review, we are defining and reviewing your most critical KPIs in order to determine what's on track and identify what needs your immediate attention. Depending on your industry and unique business, these KPIs might include Total Revenue, Gross Profit Margin, Operating Cash Flow, Average Sales per Customer, or even the Debt to Equity ratio of your business.
Once we've identified the KPIs most important to your financial goals, we'll explore your quarterly and annual performance across those metrics and identify the most pressing actions you need to take over the next quarter. 
Determine Your Next Steps
Based on the goals we identify, we'll look at how to get you there. We'll analyze different scenarios of what can be changed, improved, or implemented in your business to reach your target. 
For example, if your goal is to increase your Net Cash Flow by 10% over the next quarter, we'll explore how you can reach that 10% increase through lowering expenses, increasing your prices, and more. 
Hands On Review With an Expert
Each Quarterly Review includes a comprehensive Zoom call with Anne Napolitano and your Account Manager to discuss our findings and devise a plan of action. 
You'll walk away from your Review call with a clear understanding of what you need to do, why you need to do it, and knowing that you have a qualified team working behind you. 
We're here for you!
If you're a current client and are interested in learning more about our Quarterly Reviews, reach out to discuss what this can do for your business.
If you aren't currently a client and want to learn more about how we can serve your business, click here to set up a free consultation. We want to be partners in your success!