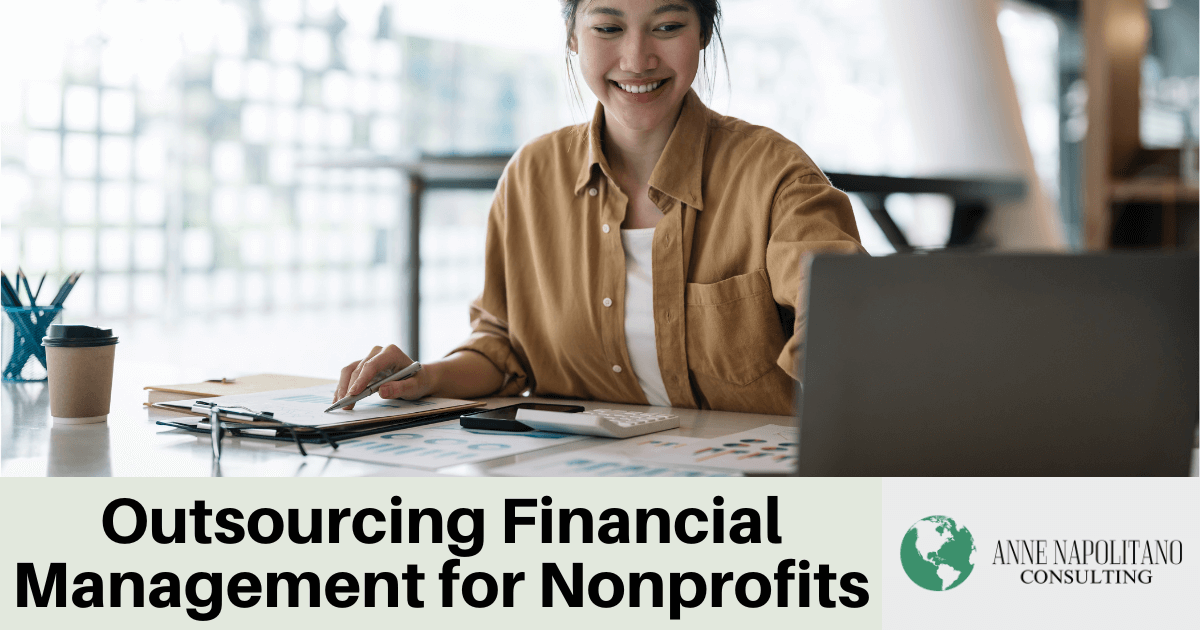 Financial management for nonprofits can be a challenge for many. This article explores outsourcing financial management tasks such as accounting, bookkeeping, and CFO services as a cost-effective solution. 
As nonprofit leaders, your mission is to drive positive change and make a lasting impact. However, the financial responsibilities that accompany these ambitions can be overwhelming. That's where outsourcing financial management steps in as a strategic solution. In this article, we'll explore the benefits of outsourcing financial tasks like accounting, bookkeeping, and CFO services for nonprofits. From cost savings to specialized expertise, outsourcing allows your organization to focus on what truly matters while ensuring accurate financial reporting and compliance.
The Power of Outsourcing Financial Management for Nonprofits
Outsourcing financial management offers a strategic solution for nonprofits seeking to streamline operations, reduce costs, and gain access to specialized financial expertise. Here are a few key benefits that outsourcing financial management for nonprofits can bring:
Cost Savings and Efficiency
Nonprofits often operate on tight budgets, making resource allocation a crucial consideration. Outsourcing financial tasks can yield significant cost savings compared to hiring full-time in-house staff. You eliminate expenses related to salaries, benefits, and training. Moreover, outsourcing firms bring established processes and cutting-edge technology that streamline operations, allowing your organization to operate more efficiently.
Access to Specialized Expertise
Nonprofit financial management requires a unique skill set that may not be readily available in-house. Outsourcing offers access to a team of experts well-versed in nonprofit accounting, fund management, and compliance. These professionals bring industry-specific knowledge, ensuring accurate financial reporting and adherence to complex regulations, freeing you from the worry of staying current with the ever-evolving financial landscape.
Here are a couple of ways that outsourcing to a specialized expert can benefit your organization: 
Outsourcing CFO Services: Strategic Financial Guidance
Engaging an outsourced CFO service is like having a strategic financial partner dedicated to your nonprofit's success. A skilled CFO brings a fresh perspective, in-depth financial analysis, and forward-thinking strategies to the table. This level of expertise helps you make informed decisions to navigate challenges, seize opportunities, and drive growth. Outsourced CFO services ensure that your nonprofit's financial decisions are aligned with your mission and long-term goals, fostering financial stability and resilience.
Outsourcing Accounting Services: Accurate Financial Reporting
Financial transparency is the bedrock of nonprofit credibility. Outsourcing accounting services ensures that your financial statements are generated accurately, reflecting your organization's financial health and activities with precision. Reliable financial reporting enhances your transparency, bolstering donor and stakeholder confidence. Outsourced accountants follow best practices in financial recording and reporting, reducing the risk of errors that could lead to financial discrepancies or compliance issues.
Focus on Your Mission
Outsourcing financial tasks allows your organization to focus on its core mission and programs. When administrative burdens are reduced, your team can dedicate more time and energy to creating a meaningful impact. Outsourcing also lets you harness the expertise of financial professionals, ensuring that your resources are effectively allocated and your financial goals are aligned with your mission. 
Scalability for Growth
Nonprofits often experience fluctuations in financial demands based on project cycles, fundraising activities, and other factors. Outsourcing offers the advantage of scalability – you can adjust the scope of services based on your organization's needs. Whether you're preparing for a major fundraising campaign or navigating a period of financial growth, outsourcing allows you to adapt your financial support without the challenges of hiring or downsizing an in-house team.
Selecting the Right Outsourced Financial Management Partner
Choosing an outsourcing partner is a critical decision that requires careful consideration. Here are some key factors to keep in mind:
Nonprofit Sector Experience: Ensure that your outsourcing partner has a deep understanding of the nonprofit sector's unique challenges and requirements. Experience in working with nonprofits allows the partner to offer tailored solutions that fit your organization's needs.
Fund Accounting Expertise: Nonprofit financial management involves intricate

fund accounting

, where funds must be tracked and reported separately. Choose an outsourcing partner that is well-versed in fund accounting practices to accurately manage donor restrictions and grant allocations.
Alignment with Values: Your outsourced partner becomes an extension of your organization. Select a partner whose values align with your mission and goals. A strong alignment ensures a partnership built on trust, shared objectives, and a commitment to your nonprofit's success.
Partners in Your Success
Outsourcing financial management is more than just a cost-saving measure; it's a strategic move to propel your nonprofit toward greater success. By leveraging the expertise of specialized professionals, you free up resources, ensure compliance, and maintain accurate financial records—all while maintaining a laser focus on your organization's mission.
At Anne Napolitano Consulting, we understand the intricate financial needs of nonprofits. Our dedicated team not only provides accounting for nonprofit organizations but offers tailored financial management solutions that allow your organization to thrive. Schedule a free consultation today and let us help you streamline your financial management, so you can make an even greater impact.