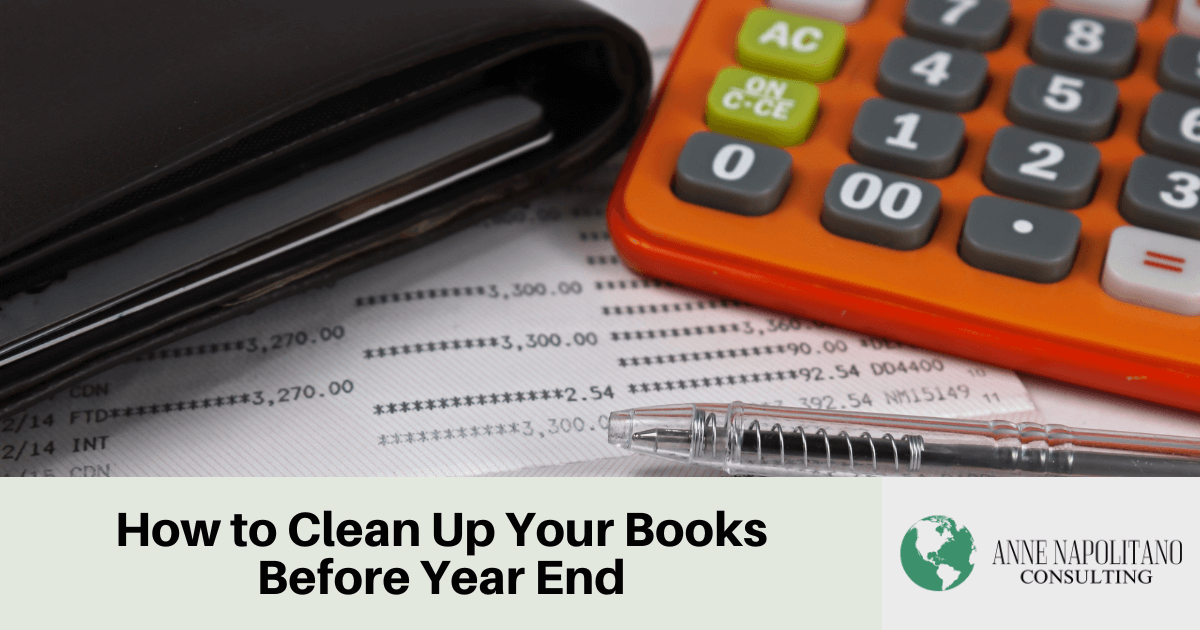 Learn how to clean up your books in order to prepare for a strong end to your year. 
Business owners often have the best of intentions to stay on top of their own accounting and maintain accurate financial records. However, busy schedules and other pressing responsibilities can leave your accounting tasks on the backburner. You may know that your books have gotten out of hand and be tempted to simply ignore the problem. However, ignoring this issue will not make it go away. In fact, it will only make the problem worse. 
Instead of simply ignoring your bookkeeping mess, it's time to learn how to clean up your books and eliminate the mess. 
Messy Books Are Bad For Your Business
Having messy books is just not good for your business. Period. If your books are behind, incomplete, or inaccurate, it can lead to a number of problems down the road, including trouble getting loans, an inaccurate picture of your financial health, over-withdrawals, and wasted time. Your inaccurate books can even lead to IRS penalties or audits. 
Your books are not something to play around with. Ensuring that you have clean, accurate, and up to date books is a critical part of your business. 
Common Signs Your Books Are a Mess
You're unaware of how much you spend each month.

 

You have a stack of receipts lying around.

 

You never know the exact standing of your bank accounts.

 

You don't complete your monthly reconciliations.

 

You don't know if your business is profitable.

 

You've used personal funds for business transactions and vice versa.

 
If you've experienced any of these signs, it's most likely time to get cleaning. 
How to Clean Up Your Books
1. Stop Further Damage
Before you can jump in and start fixing your books, you need to prevent any further damage. From this point forward, ensure that you're routing all of your incoming source documents through a reliable accounting system. This way you can stop the bleeding so that you can focus on fixing the problem moving forward.
2. Identify the Issue(s)
Now it's time to identify the issue with your books. Are your books behind because you've failed to record recent transactions? Are they inaccurate because you've had some data entry errors? Or is there a deeper, more complex issue at hand? 
If you know your business's accounting records are a mess, then you should be able to easily identify the root issue. However, business owners with smaller, less obvious problems may not have the knowledge to correctly identify and resolve the issue. If you reach this point and are unable to identify the root issue causing your messy books, it's time to call in a professional to take the lead. 
Start by checking for data entry errors and errors of omission. Data entry errors include mixing up debits and credits, entering incorrect numbers, or transposing numbers. An error of omission means you failed to record a transaction. Check for each of these types of errors by double-checking your work and combing through your records. 
3. Reconcile Your Accounts
Regularly reconciling your accounts may be the most important step in getting your books cleaned up. How often do you reconcile your books with your external accounts (eg. bank accounts)? If you're not doing this on a regular basis, it's a recipe for a mess. 
To reconcile your accounts, go through and match the transactions you have recorded in your books with each transaction on your bank and credit card statements. If there are any transactions that do not match or you failed to record, update your records to match your statements. Some easily missed transactions to be on the look out for are bank fees, insufficient funds fees, and interest earned. It's also important to account for any deposits in transit or outstanding checks that are not yet showing on your bank statement. 
Moving forward, it's good practice to reconcile your accounts monthly to help ensure clean books. 
4. Make Adjusting Entries and Consider Accrual Accounting
An adjusting entry "is an entry in a company's general ledger that occurs at the end of an accounting period to record any unrecognized income or expenses for the period." (Investopedia) When cleaning up your accounting books, you must make your adjusting entries after reconciling all of your accounts. 
If you're not already using the accrual accounting method, it's something to consider. With accrual accounting, you record journal entries the moment revenue is earned (through invoicing, purchase contracts, etc.) rather than the moment cash is received. Through the process of making adjusting entries, you can start to transition your books to this method of accounting. (It is important to note, the accrual accounting method is not necessarily best for every business. If you're unsure if accrual accounting is right for your business, reach out to us.)
The three main types of adjusting entries you will make are: 
accruals: revenues and expenses that have not been received, paid, or recorded
deferrals: revenues and expenses that have been received or paid, but not recorded
estimates: entries that record non-cash items, such as depreciation expenses or allowance for doubtful accounts
When preparing adjusting entries, you'll treat them just like you do a regular journal entry. Simply debit one account and credit the other. 
5. Establish an Improved Bookkeeping Process
In step 1 you started this process by stopping the damage, but now it's time to flesh that out a bit more. If you're still relying on a spreadsheet or pen and paper process for bookkeeping, it's time to move to a quality accounting software, such as Quickbooks or Xero. By using professional accounting software, you are not only able to record entries and maintain your general ledger, but you're able to quickly generate key financial statements, such as your profit and loss statement and balance sheet. Most accounting softwares also have additional features such as automatic bank transaction imports, machine learning, and the ability to accept credit card payments to make your bookkeeping process smoother. 
Even when using a high-quality accounting software, it's important to remember that it won't do all of the work for you. Unless you're using it correctly, it will be ineffective. This is where hiring a professional bookkeeper comes in.
As a business owner, you're busy with a multitude of tasks on your plate and keeping up with your books can be a challenge. So if you're still maintaining your own books, it may be time to hire someone for this role. By hiring a professional, reliable bookkeeper, you're able to relax knowing that your books are being well taken care of. Depending on the size of your business, you can hire someone to work in-house or you can outsource this role to an independent contractor. 
6. Consult a Professional
In all honesty, if your books are a mess up to this point, it will likely be difficult to clean them up on your own. Or you may just be too busy to handle this task on your own. In either case, hiring an accounting professional to come in and clean your books is an excellent solution to your problem.
By hiring an accounting professional to clean up your books, you: 
ensure that you have accurate and up-to-date books to get your business back on track.

free up your time to focus on other aspects of your business.

 

have peace of mind knowing that your books are in good hands.

 

get professional advice on how to maintain accurate books and avoid problems in the future.
We'll Clean Up the Mess and Save You From Stress
Cleaning up your own books is a tedious and even stressful process. Let us clean up the mess and take that stress off your shoulders. We offer year-end financial reviews to help you finish your year with confidence.
In our year-end financial reviews, our accounting professionals: 
complete a YTD review of your books

 

clean up your books to ensure they are up to date and accurate

help you start planning for year end

make recommendations on what needs to be accomplished in Q4
Don't wait until it's too late. Get your books clean by booking your year-end financial review. Schedule your free consultation to get started.