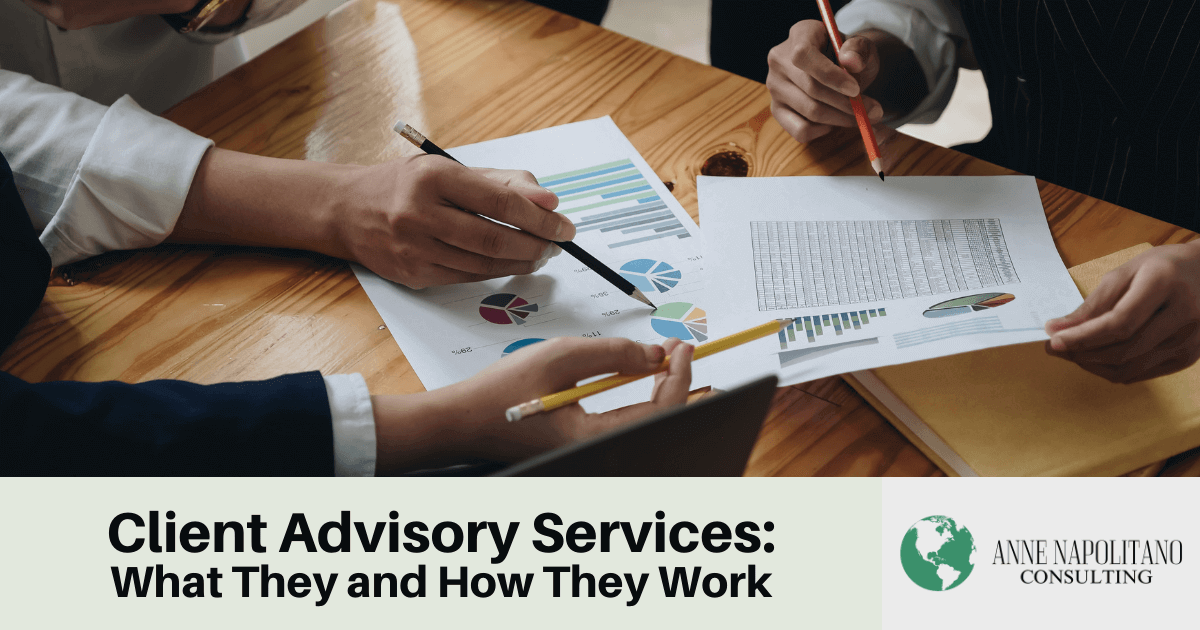 We now offer Client Advisory Services, and we couldn't be more excited because we are confident that this high-touch service will help your business reach the financial success you desire.
Client Advisory Services may be a new concept to you and leave you wondering how they can actually benefit your business. In this article we'll walk through what Client Advisory Services are, why you need them, and how the process with our firm works.
What are Client Advisory Services?
Our Client Advisory Services allow us to build a transformative partnership with your business in which we go above and beyond reporting your finances and become a strategic advisor that allows you to be more proactive, informed, and empowered with your money.
With our Client Advisory Services, our firm acts as your Virtual CFO. We're able to help you budget and forecast, create strategic plans, monitor your Key Performance Indicators, and more. This high-touch service keeps a series of experts in your back pocket who are key in the planning of your business.
Why Client Advisory Services?
While it is important to have someone working with your business to manage your books, interpret reports, and help you understand how your business is doing now, your business's success doesn't just depend on what happened last month or last year. For sustainable growth, you must be planning and prepared for the future. Our Client Advisory Services do just that. 
You can think of your cashflow as a lagging indicator of your business's health; it's a reflection and result of the work you've already done. Partnering in an advisory capacity allows us to marry your retrospective financial data with more proactive leading indicators — or metrics that help predict future results. 
We'll be working together to create a holistic approach to improving your business and increasing your profits, looking at how everything from your operations to your offers are impacting your bottom line. 
These services are a great option for business owners who are ready to go beyond organized books into a more comprehensive growth strategy. 
How do Client Advisory Services work?

 
If you're interested in working with our firm for Client Advisory Services, here's the rundown of the process. Through this process, we will work with you to create data-driven plans for the sustainable growth of your business.
Step 1: Needs Assessment
We start with an assessment of your current needs, including an analysis of your software set-up, your current workflows, and cashflow. We present our findings along with a report of initial improvements to be made.
Step 2: Short-Term Consulting
After the completion of your Needs Assessment, you have the option of moving forward with us for short-term consulting to implement initial changes. This may include file clean-up, staff training, new process creation, and more.
Step 3: Ongoing Advisory Services
Once initial changes are made, we invite you to join us for ongoing advisory services, a monthly retainer that includes accounting services, implementation of your growth plans, and consulting on your next steps. 
Partners in Your Success
At Anne Napolitano Consulting, it's our desire to go beyond the numbers and truly become a partner in your success. If you're interested in learning more about Client Advisory Services, reach out. We would love to talk with you about how our Client Advisory Services will benefit your business.