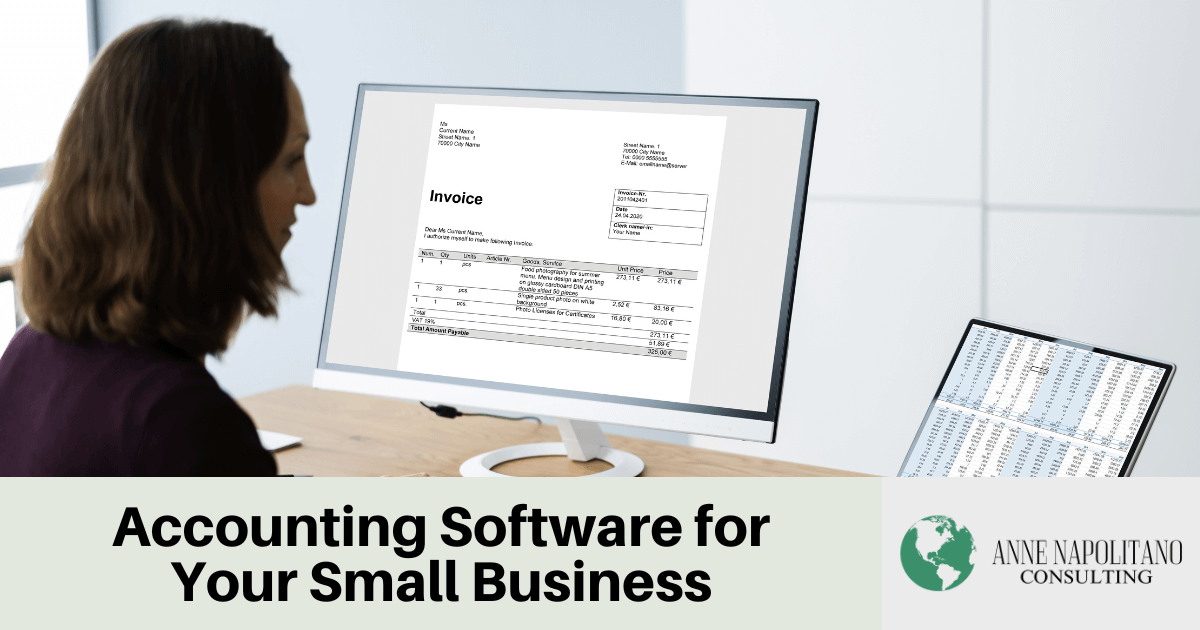 Accounting software is an essential tool for any small business owner, whether you are just starting out or have been around for years. There are many different types of accounting software available on the market today, and each has its own benefits. However, one thing that they all have in common is their ability to save you time and money by helping you keep track of your business finances.
Selecting the right software for your business can be a daunting task. So we're helping by bringing you our recommendations for accounting, payroll, accounts payable, forecasting, and document management software.
Accounting: QuickBooks Online and Xero
As a business owner, having software to effectively manage your finances is critical. From keeping track of your income and expenses to generating financial reports, having the right software is an important investment for your business. There are many different options out there, but we recommend using QuickBooks Online or Xero.
QuickBooks Online
QuickBooks Online has become the go-to accounting software for small business. With their variety of features and multiple plan options, QuickBooks is an excellent option for small businesses at any level. QuickBooks Online is highly customizable with multiple add-on options, making it easy for an inexperienced bookkeeper to learn while being robust enough for experienced users to take advantage of its advanced accounting tools. 
QuickBooks Online offers ultimate convenience for its users. Because it's a cloud-based software, you can access it from anywhere with an internet connection. Their mobile app is also better than most of their competitors, giving you easy access to your business's finances on the go. 
Features include: job costing, inventory, managing bills, tracking expenses, managing contractors, reporting, bookkeeping, tracking miles, sales tax, invoicing, tax deductions, and estimates. 
The bottom line: Because QuickBooks Online is customizable and user-friendly, it's an excellent accounting software for any small business. 
Xero
Xero is a robust accounting software that has a vast number of well-integrated features. Xero offers exceptional reports, advanced analytics, and tools to track projects for your business. By using artificial intelligence, Xero is able to automate processes (such as sending invoice reminders) that will save you time and money. It's also one of the most compatible accounting software on the market as it integrates with over 500 other products from email to specialized systems (such as CRMs and industry specific systems). 
Xero offers multiple plan options so that it grows with your business. It also allows you to access your business finances any time, from any place with their cloud-based software and user-friendly mobile app. 
Features include: pay bills, claim expenses, bank connections, accept payments, track projects, payroll with Gusto, bank reconciliation, manage Xero contacts, capture data, files, reporting, inventory, invoicing, multi-currency, purchase orders, quotes, sales tax, analytics, accounting dashboard, and manage fixed assets.
The bottom line: Xero's accessibility, integrations, advanced features, and usability make it one of the best accounting software available for small businesses. 
Payroll: Gusto
Gusto is a payroll solution that takes the most difficult parts of payroll and benefits administration off of your plate. Because it was built with growing small businesses in mind, Gusto offers easy payroll for both employees and independent contractors. It also facilitates employee benefits such as health benefits, retirement, commuter, life insurance, and custom benefits.
We love Gusto because it works beyond just running payroll. It also automates many human resources tasks, making onboarding new employees simple. Gusto centralizes your business's HR and accounting data and documents all in one easy-to use platform.
Gusto is also easy to use for both employers and employees–even if you're not tech-savvy–making it a great option for any small business owner.
Features include: full-service payroll, tax compliance, employee benefits, time tracking, hiring & onboarding, talent management, and insights & reporting. 
The bottom line: Because of Gusto's vast payroll and HR features, it's a great option for business owners who want to automate as much of these processes as possible. 
Accounts Payable: Bill
Bill (also known as Bill.com) simplifies your financial operations by taking the manual work out of managing your finances. It automates accounts payable and accounts receivable processes, saving you both time and money. Bill's streamlined accounts payable processes allow you to easily enter your bills, simplify your approvals process, and use flexible payment options. Their accounts receivable features allow you to create professional invoices, send invoices with ease, simplify your tracking and follow up, and get paid faster. 
Bill also offers seamless integration with accounting software Xero, QuickBooks, Oracle NetSuite, Sage Intacct, and Microsoft Dynamics. This means that all of your transactions in Bill will automatically sync with your accounting software so that you don't have to waste time manually entering this information. 
Using Bill's online payment method is more secure than writing a check. Bill has a number of security features to ensure that your sensitive data is safe and secure. It even offers role customization within your business so you can restrict who gets access to what information.
Bill is cloud-based and offers a mobile app, so you have the option to send invoices, approve invoices, and check your cash flow status from virtually anywhere. 
Features include: accounts payable, accounts receivable, credit & expense management, payments, approvals, controls, invoicing, API, integrations, app marketplace, artificial intelligence, security, and mobile app.
Bottom line: Bill is an easy-to-use and secure option for business owners to simplify their accounts payable and accounts receivable processes. 
Forecasting: Fathom
Fathom is an all-in-one reporting, analysis, and forecasting software for business owners who are seeking to improve their business performance. It integrates with QuickBooks, Xero, Myob, and Excel. Automated daily sync with these cloud-based accounting platforms makes getting the most of your accounting data simple.
Fathom uses your financial data to provide you with in depth insights into your business performance, create custom management reports, project cash flow forecasts, and give you accurate consolidated financial reporting.
Fathom offers a variety of incredibly helpful features, but we love Fathom for particularly for its forecasting capabilities. Fathom uses your company's financial data to give you a picture of the future financial state of your company. With a wide range of forecasting features, Fathom allows you to better plan for the future of your business. 
Features include: reporting, analysis, cash flow forecasting, and consolidation. 
The bottom line: If you want to make well-informed decisions for the financial success of your business, Fathom's forecasting tools are right for you. 
Document Management: HubDoc
HubDoc makes your business's bookkeeping easier by putting all of your financial paperwork in one place. Instead of having to chase it all down at the end of each month, HubDoc will extract the key data from your receipts, invoices, and bills and keep it all in one secure and organized location. Simply snap a picture in the app, email your paperwork, or scan and upload your documents. And with their mobile app, you're able to keep up with your receipts from anywhere. 
One feature we love is that HubDoc integrates with your accounting software to automatically sync your data. You can create rules to automate how your docs are published and coded into your accounting software. 
Features include: snap & send paperwork, integration with other platforms, auto-filing and sorting paperwork, and a mobile app.
The bottom line: If you are tired of keeping up with stacks of receipts and paper invoices and bills, HubDoc is a great option to centralize and digitize your financial data. 
We're here to help!
Not all accounting software is created equal—there are many different types available on the market today, so it's important that you choose wisely when deciding which system will work best for your needs.
If you need help refining your business's accounting systems and practices, we can help. Our team of expert accountants have the knowledge and experience to guide you through implementing best practices in your business. Reach out to schedule your free consultation today.