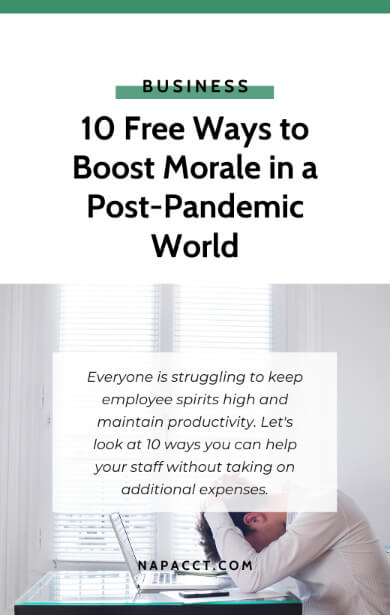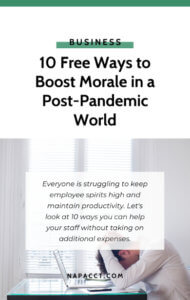 The "way of work" for many small businesses has changed drastically over the past several months.
And many business owners are navigating these changes blind, hoping for the best.
This kind of turmoil can have devastating effects on your team and their productivity.
How can you alleviate the stress and fear of uncertainty without spending time and money you might not be able to afford?
Let's look at ten free ways to boost the morale of your employees, whether you're working from home, with a limited staff, or are already finding a sense of your new normal.
Show you care.
Write personal thank-you notes.
Showing appreciation to your staff goes a long way, even in the best of times.
Writing individualized thank-you notes to each staff member will serve as a reminder that being "in this together" is not just a platitude, but an important value your company holds.
Create a resource list.
Several months into COVID-19, many communities have focused on creating accessible resources for people whose lives have been uprooted.
If you know members of your staff are still in need of things like childcare, help with groceries, or mental health services, look into creating a list of available resources in your area.
You can start the list in Google Docs (or a similar web-based document editor) and share it with your team so that, over time, it can become a collaborative asset employees can turn to, even when things return to "normal".
Send out an employee survey.
Your employees may be struggling, but don't expect them to come to you unsolicited.
Let them know that you're prepared to listen by being proactive and asking them how they feel.
There are several free tools you can use to create surveys, including Google Forms and TypeForm.
Create a quick, 5-10 question survey that invites them to share how they're feeling, what they need from you, and what they need from their teammates.
Host events.
Host virtual socials.
If your staff is working remotely, social isolation is likely weighing heavily on them.
Even if you still have team members in the office, their regular happy hours, lunch dates, and casual meetings in the hallway have been interrupted.
Invite everyone to get together for a virtual social where you ditch the work-talk and focus on catching up.
You can even take the afternoon off and host a virtual office party. You can encourage everyone to decorate their home workspace and give out cheeky awards.
Host a "Show & Tell: Quarantine Edition".
Have your employees been knocking out home renovation projects? Have they picked up a new hobby or skill? Maybe they're fostering a pet?
Let them show it off!
Your Show & Tell doesn't need to be a huge to-do or another Zoom meeting on your calendar. You can set up a Slack channel, start a group chat, or create an email thread if your inboxes aren't overloaded.
The point is simply to give your team space to show off and be proud of non-work accomplishments.
Host walk-and-talk meetings.
Do all of your meetings have to take place in front of a computer?
If not, encourage your employees to hit the pavement while you chat.
Either have them download the Zoom app for video meetings, or move your check-ins to a regular telephone call, and motivate everyone to take a walk around their neighborhoods while you talk.
Laugh together over lunch.
Just because your employees can't gather in the breakroom to trade stories and decompress doesn't mean they can't enjoy a nice laugh over lunch.
Work together to pick a lighthearted television show to watch every afternoon.
You can host "watch parties" via Zoom, or just take five minutes after lunch to chat about the day's episode. You can also pick a podcast or a work-appropriate comedian to listen to.
Hint: Not sure what to watch? Ask in your survey!
Improve their working experience.
Help everyone build a routine.
You don't need to micromanage how your team is working, but providing some guidelines can be helpful.
If you notice people are working later than necessary, encourage them to turn off all work notifications by 5:00 p.m. If everyone is stuck in meetings all day, help them streamline meeting times so they're only on calls two days a week. Even if you don't host walk-and-talk meetings, you can encourage everyone to get out of the house for 30 minutes a day.
Give them ideas — and permission — to think outside of the box with how they're structuring their days.
Create a mentoring program.
Now is a great time to break down the silos that are separating different parts of your team.
You can pair people together from different departments or different levels of the org chart to teach each other.
Again, this doesn't need to be a high-pressure addition.
Maybe your mentoring program includes one person a week sharing what they do, explaining an important skill, or walking through important software.
Encouraging teaching, getting to know teammates, and expanding everyone's familiarity with your business will keep people engaged.
Implement virtual coworking.
Get the best of both the in-person and from-home worlds of work by inviting your team to virtually "cowork".
Virtual coworking provides space for people to work together without being in the same place. Usually, people in coworking spaces are freelancers or are self-employed, so most traditional coworking platforms weren't necessarily made with newly-remote teams in mind. You can still set up Zoom or Google Hangouts calls to get your people together.
You can have quiet coworking spaces, where people tune in to a video conference room with their microphones turned off, or collaborative coworking spaces where they can tune in and are free to chat about work.
Keep in mind that these sessions are entirely different from meetings. The goal is to be actively working on tasks.
Depending on what your team needs, you may decide to have these spaces open all day, or you may decide to invite staff to cowork during a set hour, or whenever they feel it would benefit their work.
Most importantly, be flexible.
This is not the time to implement new, strict policies or reprimand your team over small mistakes.
Everyone will likely be on edge for a while, even as businesses reopen and they get a taste of normalcy.
Empathy and tone will still be key over the next several months.
The more employees know that you're prepared to give leeway, the easier they'll be able to breathe. You can't expect everyone to show up at 100% right now, and flexibility will help prevent them from shutting down entirely.
As a leader, your team needs you to show up louder than the outside noise.
It's very easy to get caught up in what isn't going right, or what's scary about tomorrow.
While you might not be able to give your employees answers about the future, you can give them a little joy right now.
Try a few of these suggestions. We would love to hear how your team responds.